Musafia Cremona Italy
S U P E R L E G G E R O R O Y A L E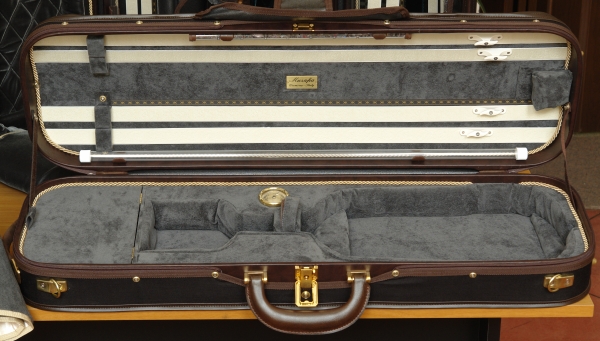 Lightweight, practical, and well-appointed.
FEATURES and OPTIONS - COLORS - WEIGHTS and MEASUREMENTS
The SUPERLEGGERO is an extremely functional and elegant case line that offers artisan quality and care at the price of many industrially-made cases.
First introduced in 1986, the SUPERLEGGERO has been perfected over the decades to combine the classic design, safety and quality of the more expensive Musafia cases for those who prefer a tasteful but not ostentatious case.
Available in oblong and dart shape formats, for the violin and for the viola. The oblong design offers ample space for accessories (up to 1,350 cm3 for oblong the violin model), while the compact, lightweight dart-shape case has a provision to fit most shoulder rests in addition to a smaller accessory compartment.

Δ Δ Δ
DESIGN
Classic instrument placement with strategic foam impact absorbing structures to protect it from impact in all directions. Closed accessory box(es) for mutes, tuning fork, etc.; dart-shape models have area for shoulder rest (with Velcro - replaceable).
FORMATS AND VERSIONS
| | |
| --- | --- |
| | The oblong 2012R Superleggero Royale is the classic entry-level Musafia. Safety, quality, and function in a discreet package. |
| | The dart-shaped S2011R Superleggero Royale brings Musafia quality to the compact dart design at a price comparable to many industrially-made cases. Also available for the viola (S2021R). |
| | The oblong 2021R Superleggero Royale is the viola version of the 2012R. Each is made to measure expressly for your viola. |
INTERIOR MATERIALS
Lined in soft suede-like Royale.
Δ Δ Δ
MORE INFORMATION ABOUT THIS MODEL (click on links)
FEATURES and OPTIONS - COLORS - WEIGHTS and MEASUREMENTS
In his continuous quest for perfection, Mr. Musafia reserves the right to change, modify, and improve any features and characteristics of these cases without prior notice.
"Musafia" and "Musafia Cremona Italy" are registered trademarks protected by law.