Musafia Cremona Italy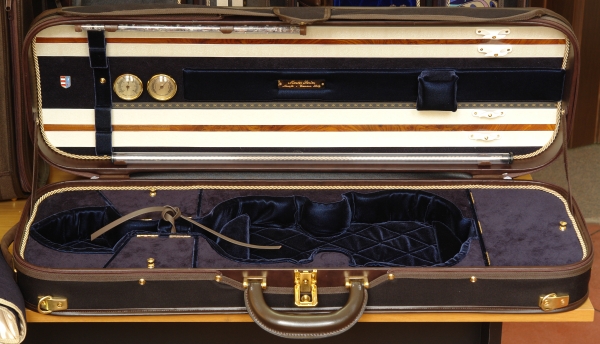 "By far the most impressive, the Musafia Master Series is every musician's dream". (Strings magazine)
FEATURES and OPTIONS - COLORS - SPECIAL VERSIONS - WEIGHTS and MEASUREMENTS
In 1986, after three years of building violin cases and several hundred sold, Mr. Musafia felt he was ready to design and build a case to compete with the best the world had to offer: the case was called the MASTER SERIES.
To measure up to the great names that were then housing violins by the likes of Stradivari and Guarneri, no effort was spared. While a Luxury model case had basically three structural components in the bottom, the MASTER SERIES had no less than 11, each one painstakingly bonded (some with bolted-through steel L-reinforcements) to create a case of exceptional strength. The padding follows the shape of the instrument closely to restrain it from excessive movement in case of impact, and multiple accessory boxes add utility. The MASTER SERIES was likewise the first Musafia case to be equipped with full instrument suspension and humidifier (in 1988).
Mr. Musafia's efforts were rewarded when many of the world's greatest concert artists, such as Isaac Stern, began to choose this model, but moreover high-level violin dealers, foundations and museums did so as well.
Some of the instruments for which a MASTER SERIES case was made include, but are not limited to: Stradivari 1715 "Il Cremonese – ex-Joachim", Guarneri "del Gesù" 1742 "The Cannon – ex-Paganini", Stradivari 1717 "Firebird - ex-Saint-Xupéry", Stradivari 1727 "Holroyd", Guarneri filius Andrea 1689 "Quarestani", Stradivari 1725 "Chaconne", Brothers Amati 1615 "Stauffer", Guarneri "del Gesù" 1738 "Emperor", Andrea Amati 1566 "Charles IX of France", Niccolò Amati 1658 "Hammerle", Guarneri "del Gesù" 1729 "Stretton", Stradivari 1721 "Sinsheimer", Stradivari 1734 "Scotland University", and many others.
In 2013 the MASTER SERIES was subjected to its first major redesign. On the violin models the instrument is more centrally-placed to offer greater protection from bumps, while the shape of the impact-absorbing foam filler on all models was likewise refined to provide greater protection in case of fore-and-aft movement. The accessory boxes became asymmetric to increase room for accessories and they also gained a bottom lining in Fleur-de-Lys paper, elegant and plasticized to guarantee a long life (oblong models only).
Δ Δ Δ
Of course, it's not necessary to own a Stradivari or a del Gesu to appreciate the security offered by a MASTER SERIES, as even "normal" instruments - and players - will benefit by the security and peace of mind that this model provides.

The MASTER SERIES is offered in three versions, the CLASSIC which has the interior entirely lined in finest plush silk velvet, the EXCLUSIVE which has a coordination of suede-like Royale on the firm surfaces and silk velvet for the padding, and the AUREUM version which is lined in glove-quality Italian leather, silk velvet, and satin. The Aureum version can also be lined with softest, luxurious suede leather on the hard surfaces at no extra cost.
The case is graced by two strips of hand-polished cherrywood burlwood, finished with six coats of traditional gumlack prepared in the workshop. It can probably be said safely that the MASTER SERIES is one of the most distinctive and carefully-made cases available today.

Δ Δ Δ
DESIGN
A thoroughly classic design in the great tradition of Hill and other legendary case makers of the past, brought into the present - and beyond - with a refined redesign. Instrument placement with strategic foam impact absorbing structures and multiple structural load-bearing partitions to protect it from impact in all directions. French-fit padding all around the instrument. Closed accessory boxes on long-lasting brass hinging for mutes, tuning fork, etc.. Deep quilted padding.
FORMATS AND VERSIONS
| | |
| --- | --- |
| | The 4111 Master Series Classic is an elegant re-interpretation of the old Jaeger cases, with a high level of instrument safety and artisan finish. CLICK HERE TO SEE DETAILS |
| | The same quality and finish of the Master Series is available also in the compact dart-shape format for violin and for the viola (made to measure). Pictured is a S4111E Master Series Exclusive for the violin. This is quite possibly the most refined, protective, and elegant dart-shaped case made today. CLICK HERE TO SEE DETAILS |
| | The Master Series Exclusive 4111E has the same interior design as the 4111 Master Series Classic CLICK HERE TO SEE DETAILS, but with a two-tone interior lining with suede-like Royale and silk velvet. Also in the compact dart-shape format as the S4111E for violin and S4121E for the viola (made to measure). |
| | An especially precious effect is obtained by the 4111P Master Series Aureum, in which glove-quality leather or suede-leather lines the hard surfaces. CLICK HERE TO SEE DETAILS |
| | For the viola one may choose from the 4121 Master Series Classic, the 4121E Master Series Exclusive, or the 4121P Master Series Aureum (pictured). Each is made to measure. CLICK HERE TO SEE DETAILS |
| | For those requiring a case for two violins, the 4131 Master Series Classic and the 4131E Master Series Exclusive (pictured) are offered. |
INTERIOR MATERIALS
Finest plush silk velvet (Master Series Classic), silk velvet and suede-like Royale (Master Series Exclusive), glove-quality Italian leather, silk velvet, and satin (Master Series Aureum).
Δ Δ Δ
MORE INFORMATION ABOUT THIS MODEL (click on links)
FEATURES and OPTIONS - COLORS - SPECIAL VERSIONS - WEIGHTS and MEASUREMENTS
In his continuous quest for perfection, Mr. Musafia reserves the right to change, modify, and improve any features and characteristics of these cases without prior notice.
"Musafia" and "Musafia Cremona Italy" are registered trademarks protected by law.