Musafia Cremona Italy
The NEW Musafia!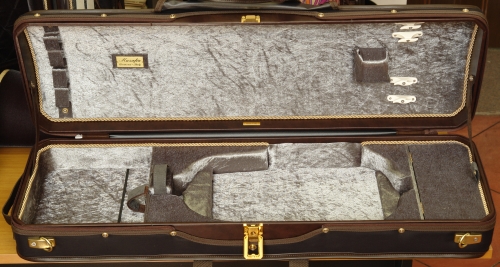 from 1.9 kg/ 4.2 lbs.
The lightest Musafia cases ever built!
Find out what's standard and what's optional on this model here: Features and Options
FEATURES and OPTIONS - COLORS - WEIGHTS and MEASUREMENTS
The new LIEVISSIMA is here to prove that you don't have to accept the disadvantages of Carbon Fiber or thermoplastics (poor thermal insulation, limited violin safety, delicate exterior) to enjoy an ultra light weight case which actually offers superior protection to your violin!
Take a close look at it - no other case offers so many qualities, and it's surprisingly affordable as well! The extremely light weight of the Continuum High Tensile construction, the safety offered by the six-ply lamination with the monolithic gluing process and four-point Offset Plane Suspension System™, the insulation from heat and cold offered by thermal insulation, the quality of construction of Mr. Musafia's workshop with 34 years of experience, and the peace of mind offered by the unique lifetime limited warranty, maintenance and repair services, and every Musafia's high resale value.
Offered in rectangular and dart-shape, both with or without high-capacity extra large music pocket (measuring cm 48 x 26, or 19 x 10 inches). All models include an elastic in the scroll area to hold string packets, business cards, etc.
When compared to a Carbon Fiber case of similar ultra light weight, LIEVISSIMA has quite a few distinct advantages:
O Tthermal insulation layer
O Includes protective case cover (replaceable) with available pocket
O Lighter than many carbon fiber cases without a cover
O Shell can withstand up to 80 kg. pressure without damaging the violin inside
O Tested superior resistance to temperature and humidity changes
O Plush, roomy interior with closing accessory compartment
O Crash-tested 4-point Offset Plane ™ suspension system
O Patented SoftTouch ™ rubbery self-locking bow holders
O SuperComfort ™ computer-bag style soft leather strap handles
O Subway strap (replaceable)
O 100% made in Cremona, Italy
O Lifetime limited warranty
O Musafia quality and after-sales service
LIEVISSIMA allows you to decide which accessories and features you need and which you don't, so you don't have to pay for the ones you can do without, nor carry their weight around. For example, straps are not included: you can order LIEVISSIMA with a normal shoulder strap, two normal straps that also permit backpack use, choose padded straps instead of the normal ones- or no straps at all, if you already have them!
Offered in both ultra-compact rectangular and the even smaller dart-shape formats, with or without enlarged size music pocket.
Compare LIEVISSIMA with ANY other ultralight case available today - we think you will be surprised.
Please note: maximum bow length accommodated in the ultra-compact Lievissima oblong case is 75.0 cm. No limitation for the dart-shape version.

Δ Δ Δ
DESIGN
Advanced instrument placement (i.e. to the left) with strategic foam impact absorbing structures to protect it from impact in all directions. Closed accessory box for shoulder rest, mutes, tuning fork, etc.. With and without external music pocket.
FORMATS AND VERSIONS
Oblong and dart shape. Available for violin only.
INTERIOR MATERIALS
Lined in super-soft silver grey plush (only).
Δ Δ Δ
MORE INFORMATION ABOUT THIS MODEL (click on links)
FEATURES and OPTIONS - COLORS - WEIGHTS and MEASUREMENTS
In his continuous quest for perfection, Mr. Musafia reserves the right to change, modify, and improve any features and characteristics of these cases without prior notice.