Musafia Cremona Italy
Σ N I G M A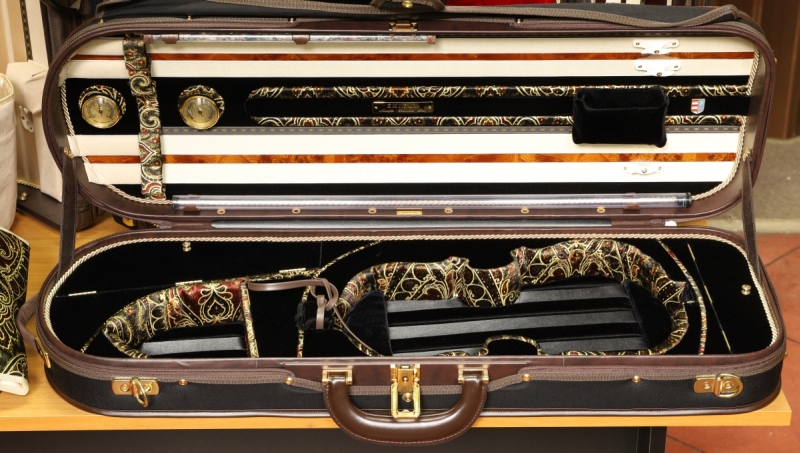 "The Enigma is the crème de Cremona". (Strings magazine)
FEATURES and OPTIONS - COLORS - SPECIAL VERSIONS - WEIGHTS and MEASUREMENTS
Δ Δ Δ
Mr. Musafia designed the original ENIGMA case, introduced in 2003, to represent the pinnacle of Musafia case making with the aspiration to be considered the best case in the world, bar none. Symbolically, it was a demonstration what he and his assistants were capable of building, without regard to anything but quality, features, finish and instrument protection.
After seven years of production sold to demanding musicians and collectors worldwide, in mid-2010 – and for the years ahead – the ENIGMA was further refined to set it even more distant from the competition. Thus was is the genesis of the current ENIGMA Series 2.
Compared to the Series I, in the ENIGMA Series 2 the concept of asymmetry is taken further than ever. As a result, the main accessory compartment, thanks to a gracefully curved structural partition, now offers about 20% more storage room in a seamless area (now about 1,350 cm3) and is shaped to accommodate almost all shoulder rests. The compartment below the violin neck enjoys a similar space increase (to 270 cm3), thanks to the secondary partition, which is tilted to reflect the placement of the pegs in the violin scroll. Even the compartment to the right has an off-center partition enabling better use of the available room (625 cm3). The total available space for accessories is thus 2,245 cm3.
This optimization also helps increase instrument safety, as the asymmetric development of the interior is designed to better dissipate kinetic energy in case of accident through controlled deformation, while bolted-through steel L-reinforcements and load-bearing structural partitions add rigidity. The total number of parts in the bottom of the case was also reduced by 14%.
As before, the safety features built into every ENIGMA Series 2 (with the exception of the lighter-weight ENIGMA LEGGERO) include Tropicalization™, WeatherGuard™, PressurePorts™, waterproofing, and bow tip cushions. Utility features include larger-capacity music pocket and a hidden pocket for important documents. High-output L.E.D. illumination of the accessory compartments is optional on all ENIGMA Series 2 cases.
Aesthetically the ENIGMA Series 2 becomes even more refined as well. The silk velvet, milled in northern Italy with an exclusive pattern designed by Mr. Musafia expressly for this case, is now used for the padding while the hard surfaces are lined with coordinated solid-color silk velvets and satin. The ENIGMA AUREUM Series 2 has the interior lined in glove quality leather, monocolor silk velvet and satin. In all versions, the accessory boxes gained a bottom lining in Fleur-de-Lys paper, elegant and plasticized to guarantee a long life.
Further and objective confirmation of the uniqueness of all ENIGMA cases is the fact that well-kept, pre-owned examples have proven to maintain their initial value intact over the years, when not even appreciating in value.
Requiring over 22 hours of highly specialized labor to make forcibly limits the production of ENIGMA Series 2 to no more than three per month for the world market. An ENIGMA Series 2 will always be a rarity to behold, let alone to own.
Mr. Musafia and his assistants have worked hard so that you, not them, will say that ENIGMA is the best case in the world.

Δ Δ Δ
DESIGN
Exclusive patterned multi-color Italian silk velvet, satin, and burlwood make this case unique. Offset instrument placement with strategic foam impact absorbing structures and multiple structural load-bearing partitions to protect it from impact in all directions. French-fit padding all around the instrument. Closed accessory boxes on long-lasting brass hinging for mutes, tuning fork, etc.. Deep quilted padding.
FORMATS
| | |
| --- | --- |
| | The 5011L Enigma Leggero is visually almost identical to the 5011E Enigma, but has less features in order to reduce the weight and price. CLICK HERE TO SEE DETAILS (details are subject to change without prior notice) |
| | The 5011E Enigma is the case with almost all options already included into the base model, with standard features greatly outnumbering those of any other case available today. CLICK HERE TO SEE DETAILS (details are subject to change without prior notice) |
| | Violists may likewise opt for the 5021E Enigma, 5021P Enigma Aureum, or the 5021L Enigma Leggero versions, each made to pattern. |
| | The 5011P Enigma Aureum is lined in silk velvet and Italian glove-quality leather. Available also for the viola (5021P - made to pattern). CLICK HERE TO SEE DETAILS (details are subject to change without prior notice) |
INTERIOR MATERIALS
Finest exclusive Italian silk velvets and satin (Enigma and Enigma Leggero). Glove quality Italian leather with silk velvet padding (Enigma Aureum)
Δ Δ Δ
MORE INFORMATION ABOUT THIS MODEL (click on links)
FEATURES and OPTIONS - COLORS - SPECIAL VERSIONS - WEIGHTS and MEASUREMENTS
In his continuous quest for perfection, Mr. Musafia reserves the right to change, modify, and improve any features and characteristics of these cases without prior notice.
"Musafia" and "Musafia Cremona Italy" are registered trademarks protected by law.